Switzerland
Next to the town Genf is the Large Hardon Collider from other people called the black hole machine
The goverment and this scientists are risking the destruction of planet earth with all the liveforms on it !
A lot of reason they have for showing that it is harmful are wrong.
And the argument that it is harmful because it is in operation for some years is also wrong,
because the collisions now are much more dangerous than the old ones
Under this text are some preview pictures of photos I made in Switzerland, when I was in Zürich. I also found a link to a webcam. I startet my journey in Stuttgart, because I like to buy a new jacket (coat). In the Zürich old town are a lot of smal clothing saling stores and music stores and stores for something green to smoke. When going into the direction of the new shopping street theire are some churches. In the main shopping street are a lot of clothing stores, and some stores for Gold and Diamonds. The clothes are with much better design than those they sale usualy in Stuttgart. I think a lot of Japanese people fly to Zürich to buy theire Diamonds and other things. Next to the Zürich sea theire is a parade every year in August - it is called street parade. Theire are making about one million people a huge party every year - theire is no entrance and theire are no commercials on the Trucks wheire the music comes from.
pictures of the rave Zürich, switzerland - a huge, great rave Street Parade in August, it begins at 13:00H

view from the old town of Zürich
in the Zürich old town are a lot of smal stores.

a church in Zürich

a fontain in Zürich
next to the fontain are some expensive stores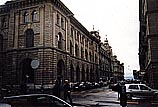 beautiful building in Zürich

the Zürich sea
http://en.wikipedia.org/wiki/Switzerland page over Switzerland - Basel, Freiburg, Genf, Tessin, Wallis, Zürich
swisswebcams/ over 600 webcams - theire are some webcam pictures from the following towns: Basel, Freiburg, Genf, Tessin, Wallis, Zürich ...
rinerhorn Hubel, Rinerhorn - Webcam on a mountain - last time i take a look i saw some snow
Switzerland videos:
this video is about Zürich in Switzerland.